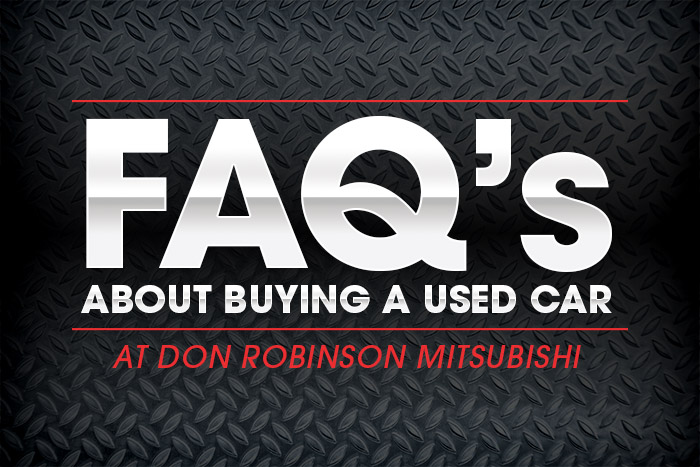 We know that buying a used vehicle can be stressful. That is why we have put together some common questions and concerns about buying used to help you understand the best way to shop for a used vehicle and what to watch for. Here at Don Robinson

Mitsubishi

, we want to make sure you are getting the best deal possible on a

Used

Vehicle, and that means knowing your options during the shopping process. Take a look at these common questions about buying

pre-owned

to help you start your car shopping experience off right!
If you do your research and find a car that is in good condition, it is not a risk to buy a used car instead of a new one. In fact, if the car is a couple years old and still running well, that's an indication of good craftsmanship you would not have seen had you purchased a brand new car. In addition to this, a used vehicle has been on the market longer, so you can do additional research on common issues for a specific model.
Reputable vehicle valuation guides are available online or in print that provide a fair price for a car based on the model, age, and condition.
Kelley Blue Book
and
NADA
are two tools that provide you with this information. Keep in mind that many factors go into this configuration including mileage, car condition, and any special add-ons. The more information you can provide, the more accurate an estimate you will get.
If you really like a used car you see, ask the dealership or private seller to allow you to have a mechanic inspect it. If the seller you are buying from is reputable and trustworthy, they typically allow you to do this. Have a private, trusted party thoroughly inspect your vehicle for unseen or substantial issues. Here at Don Robinson Mitsubishi, we have an excellent service department that inspects all used vehicles on our lot, however, we understand that buying a car is a big expense, and we want our customers to feel comfortable in the new, used vehicle they are purchasing.​ ​
It is very important to learn the service and ownership history of the vehicle you are considering buying. If the report has any negative indications on it, consider this before purchasing the car. You can access vehicle history reports through several different sources based on the VIN number. This simple report will tell you a lot about the car. A good source to use to check out a particular vehicle's history report is

Autocheck Vehicle History Reports
.
If you're purchasing a used car through a dealership, you can often find banks and credit unions that will lend you money to buy the vehicle. Depending on the age and condition of the vehicle, the interest can vary drastically, so do your research to find an institution that specializes in used vehicle loans. Our finance department at Don Robinson Mitsubishi is a great source to get financing for your vehicle. We have programs that help get you financing if you are a first-time buyer, or are working to build up your credit.
Our full-time finance manager works directly with lenders to get our customers the best deal possible.
Don Robinson Mitsubishi started as a

used dealership

, and although we now specialize in New Mitsubishi models, we have dedicated sales personnel that are trained to help you find the perfect pre-owned model for you. Our owner, Don Robinson, works hard to find the best used vehicles in our area so that you get a great vehicle for a great price. As a

St. Cloud

native, Don Robinson is dedicated to serving our community and believes that we aren't doing our job if we haven't made you a customer for life.
If you have more questions or concerns about buying a used vehicle, we would love to help out! Give us a call or stop by the dealership and we will be glad to assist you. If you are looking or have already found a

great used vehicle

on our website, stop in for a test drive today!