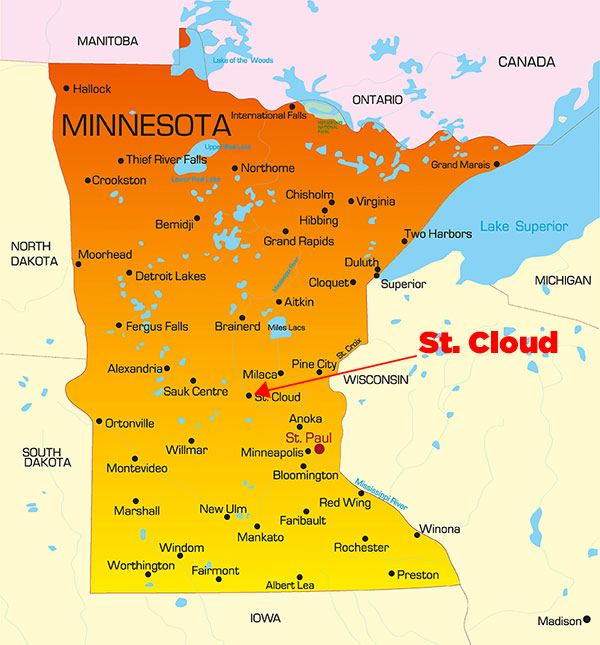 St. Cloud

,

Minnesota

is a place that has a homey feel that makes everyone like family. Despite its hometown feel, or perhaps because of it, St. Cloud is quickly becoming one of the largest cities in the state. Here at

Don Robinson Mitsubishi

, we are proud to be a part of a tight-knit community that looks out for one another.
History
St. Cloud was officially established in 1856 and is named for the city in France, Saint Cloud; this city is named for Saint Cloud from the 6th century, who gave freely to others. When German settlers came into the area known as St. Cloud, it was occupied by three different tribes of Native Americans; Ottawa, Ojibwa, and Winnebago.

As settlers began to move into the area it was divided into three regions: Upper Town, Middle Town and Lower Town. Each town flourished on its own and developed into prospering neighborhoods. Eventually, the three settlements decided to combine and become what we know now as St. Cloud. From here, the town continued to prosper as it was conveniently located near many main roads and became a trading center for neighboring settlements.
Culture
As you see with many places here in Minnesota, the culture of the town is one of community and friendliness. There is an expected kindness that people show to each other, not out of duty or expectation, but out of for respect of others, simply because that is just what you do. We are big advocates of the Golden Rule: treat others the way you would like to be treated.

St. Cloud also believes in supporting those in the local community and it just so happens that we have a great Collegiate Hockey team. The

St. Cloud State University

Huskies have been to 9 NCAA Men's Ice Hockey Championships and they have brought home individual awards for their success. We also have many local restaurants, such as Val's, The White Horse, Jule's Bistro and more, that give St. Cloud the home-town feel it has.
Minnesota Nice
Going right along with the culture here in St. Cloud, we are part of the typical "

Minnesota Nice

" that you can find throughout the rest of the state. Because we are a conservative bunch in St. Cloud, it's part of our nature to be courteous, reserved and mild-mannered. In a place that sees as much snow and cold as Minnesota does, it's great that the people of St. Cloud, and the rest of Minnesota, are helpful and good-natured.
Places to See
St. Cloud is home to numerous places to see that help highlight the city's history and culture. The Minnesota Amateur Baseball Hall of Fame is located here in St. Cloud. This was founded in 1963, and was created to honor those who have made amateur baseball what it is today and still keep it alive. The Hall of Fame recognizes not only those who have played the sport, but also those who've contributed to the sport as well.

The

Paramount Theatre of Visual Arts

has been an important piece of St. Cloud's history, and has been around since 1921. It has survived through two renovations and a fire, which required a third renovation that has restored it once again. Today, the Paramount Theatre offers not only different shows that you can visit and enjoy, but include classes in many different artistic varieties from Ceramics to photography and more!

Things to Do

In addition to all the places to see in St. Cloud, there are many things to do as well. St. Cloud is full of fun festivals year round so that no matter what time of year it is, there are festivals to see. From the St. Cloud Craft Festival, Winter Nights and Lights Parade, to the Granite City Days, St. Cloud has fun for everyone. One of the biggest events in the summer is the "Summertime by George" Concert series that takes place courtesy of the Rotary Club by Lake George. This series of concerts takes place every week during the summer with live local music and many local merchants.

In addition to the festivals in St. Cloud, the city has plenty of outdoor activities. With the Heritage Park and Nature Center, hiking and skiing are popular and with the Mississippi River close by, there is plenty of fishing, camping and canoeing to do. For bikers, the Biking Beaver Island Trail is a great place to go. Perhaps one of the most popular outdoor activities to do in St. Cloud is golfing. With five or six different places to choose from, such as Saint Cloud Country Club and Territory Golf Club, golfing in St. Cloud is a favorite for the people around here.
City Awards
St. Cloud is a great city with many qualities that exemplify the city's greatness. Awards won by the city include Reader's Digest "Most Family Friendly City," Livability.com's "Top Winter City," and This Old Magazine's "Best Old-House Neighborhood." These awards and many others can help shed some light on just how great the city of St. Cloud really is. Perhaps what makes this city so great is the hometown-feel of it, and the history, culture, and kind people here in town. St. Cloud is really just a welcoming place where neighbors are happy to be around one another, and happy to be considered a "Minnesota Nice" town.